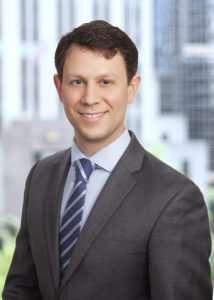 David Connaughton's practice involves all aspects of intellectual property law including patents, trademarks, and copyrights, with a focus on patent application preparation and prosecution, and litigation matters. David holds a Bachelor of Science degree in Chemical Engineering with a focus in Bioengineering, and has been with Lambert Shortell & Connaughton since 2011.
David is an attorney registered to practice before the US Patent and Trademark Office. He has experience in all aspects of patent practice including patent application drafting and filing, responding to office actions, reexamination proceedings, and post-grant practice, among others. David has prosecuted and obtained over three hundred (300) U.S. patents for clients in a wide variety of technological fields including mechanical, electrical, software, biotechnology, energy, and environmental innovations. David has also obtained patent registrations in numerous countries outside of the United States, in conjunction with foreign associates.
In addition to patent prosecution, David has been lead or assistant counsel on numerous patent litigations in the Federal Courts, particularly focusing on claim construction matters, infringement/non-infringement assertions, and validity/invalidity assertions. Further, David advises clients on all aspects of management, enforcement, and licensing of their patent portfolios.
David also has substantial experience in post grant proceedings before the US Patent Office's Patent Trial and Appeal Board (PTAB), particularly inter partes review (IPR), post grant review (PGR), and ex parte reexamination to address the validity or invalidity of patents after they have issued. Through such proceedings, David has helped strategically and effectively invalidate and/or weaken the patent positions of opposing parties to defend the patent validity positions of our clients.
Outside of the office, David enjoys hiking and being outdoors, as well as spending time with his wife and two sons. David is also active in leadership roles at his church and is currently chair of the membership committee at Old South Church in Boston. When he can, David enjoys working at craft beer festivals across the country pouring beer for a Portland, Maine brewery started by his cousin.