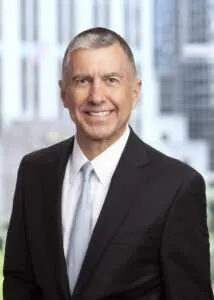 Gary's practice is limited to high-stakes patent and trademark infringement litigation where he acts as either lead or local counsel to attorneys not admitted to the Federal Courts in Massachusetts, New Hampshire and Maine.
Gary was admitted as an attorney at the age of 24 in 1984, the same year he graduated from law school with a Doctor of Jurisprudence with Honors. He holds a Bachelor of Science degree in both Chemistry and Biology that he received in 1981. He is admitted as a registered attorney at the U.S. Patent and Trademark Office in Washington, DC. Gary started Lambert Shortell & Connaughton in 1989 after having served for three years as a criminal prosecutor and defense counsel on active duty in the U.S. Marine Corps and after having worked for two years in a large law firm in Boston.
Gary has obtained hundreds of patents and registered trademarks for his clients in areas as diverse as mechanical, electrical, software, business methods, biotechnology, computer systems, musical instruments, energy and environmental innovations. Additionally, he has an extensive and unique litigation background, having successfully tried hundreds of jury and bench trials in state and federal courts. Gary tried five jury trials before he graduated from law school and he tried a capital, double-murder case at the age of 27. Gary has a special interest and expertise in the energy and environmental areas of patent law and worked on the Energy and Natural Resources Committee of the New Hampshire State Senate as the State Senator representing Nashua from 2010-2012.
Gary's list of clients range from Fortune 500 companies such as Wal-Mart, Inc. and Polaroid, Inc. to many midsize/small businesses and individuals. He has represented clients in patent and trademark litigation against large corporations such as Ford Motor Company and individual infringers.
Gary has been extremely successful at resolving many intellectual property disputes between patent/trademark/copyright owners and alleged infringers, either by litigation, mediation, arbitration or settlement.
In addition to being the founder of and managing partner at Lambert Shortell & Connaughton, Gary served in the U.S. Marine Corps Reserve for over 35 years and retired in 2014. Promoted to Colonel in 2003, Gary was mobilized during Operations Desert Shield/Storm, Noble Eagle, Enduring Freedom and Iraqi Freedom. From June 2004 to January 2005, he served as Deputy Legal Counsel and, for a time, the Acting Chief Legal Counsel to the Commanding General of the Multi-National Force – Iraq in Baghdad, Iraq. Gary was awarded the Bronze Star Medal for his service in Iraq.
Gary also serves as a Fire Commissioner for Nashua, New Hampshire.