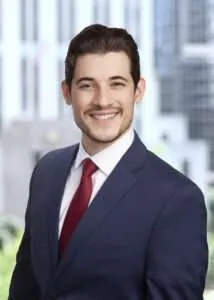 Justin is an attorney registered to practice before the US Patent and Trademark Office. He is also admitted to practice before the bar in Massachusetts.
Justin's areas of practice involve all aspects of intellectual property law and litigation with a specific focus on both patent and trademark prosecution. During his time as an undergraduate, Justin prepared for attending medical school while working towards his B.A. in Philosophy, Politics, and Law. Upon graduating magna cum laude from Binghamton University, Justin simultaneously prepared for and took both the Medical College Admission Test (MCAT) and the Law School Admission Test (LSAT). He ultimately decided to pursue a career as an attorney instead of a medical doctor. His education has provided him an in depth understanding of both physical and life sciences and has given him a unique perspective on patent prosecution and litigation.
Justin holds a Juris Doctorate from Boston University School of Law, where he achieved honors in an intellectual property law concentration. During his time in law school, Justin focused his studies on patent law, trademark law, copyright law, international business law, and the economics of intellectual property law. Justin wrote unpublished papers throughout his time at law school concerning economic justifications for various aspects of patent and trademark law as well as answers to difficult business questions like whether or not certain patents are worth it to pursue, among other topics.
Justin is the newest addition to the Lambert Shortell & Connaughton firm, having joined in early 2021. Justin is very entrepreneurial and business oriented, and he likes to think about the practical impact that his legal work will have for his clients in the business world.
In his spare time, Justin maintains a strategically diversified active trading portfolio composed of a variety of equity stocks and financial derivatives and enjoys attempting to "beat the market" each year. Justin is the oldest of five boys and enjoys chess, billiards, snow and water skiing, hiking, travelling, and spending time with his wife and family.